🎨 Button Templates in WordPress
The WordPress plugin now includes a Templates Gallery that allows you to quickly spin up complex button structures with ease.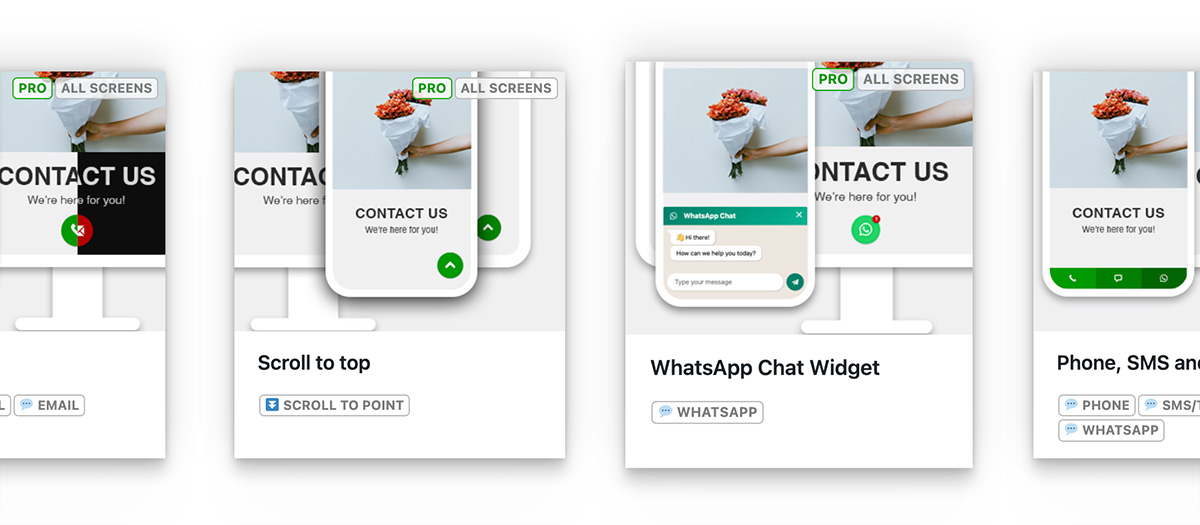 The latest addition to the WordPress plugin is the Templates Gallery: An overview of pre-configured buttons that only need minimal input from you to activate them on your site.
Faster button creation process
Button Templates allow you to create your buttons much faster than before. This is most noticable with more complex setups that involve multiple actions, colors and schedules.
Templates are pre-configured buttons that are nearly ready to go live. The only information that is missing is your contact info. A phone action still needs your phone number, an email button still needs your email address. But that's it.
Fully customizable
Once you've generated your button from a template, you're taken to the button editing screen. In the preview window you can see the result. If you're completely happy with the result you can move on to other things. But it's also possible to make changes.
You could consider the templates as a short cut to building your buttons. You can use the templates as starting points and you tweak them to meet your needs. Make some color adjustments. Replace an action with another one. Add a scheduler to an action or adjust the times of a schedule to match your working hours. Anything is possible and you'll have full freedom to make changes at any point.
Ideas & inspiration
If you already have your buttons set up, or you're unsure about the buttons you really need on your website, then the Template Gallery might be worth checking out. It's a great source for ideas and inspiration. It's an ideas gallery that demonstrates the features and possibilities offered by NowButtons. It is definitely not a complete overview of everything NowButtons has to offer, but it will give you some inspiration and a good starting point.
The Templates Gallery will keep evolving with the product. We launched with 10 templates, but new ones will be added on an ongoing basis.
---
NowButtons for WordPress
Our WordPress plugin is called Call Now Button. If your website is running on WordPress you can install our free WordPress plugin. Inside your WordPress instance, go to the Plugins section, hit Add new and do a search for Call Now Button. After plugin activation you can easily create an account and enable all NowButtons features.
The only buttons your website needs!
And get ready to triple* your inbound business!
*C. Mansfield from Manco Media (UK) reported his phone calls/messages trippled after installing it.